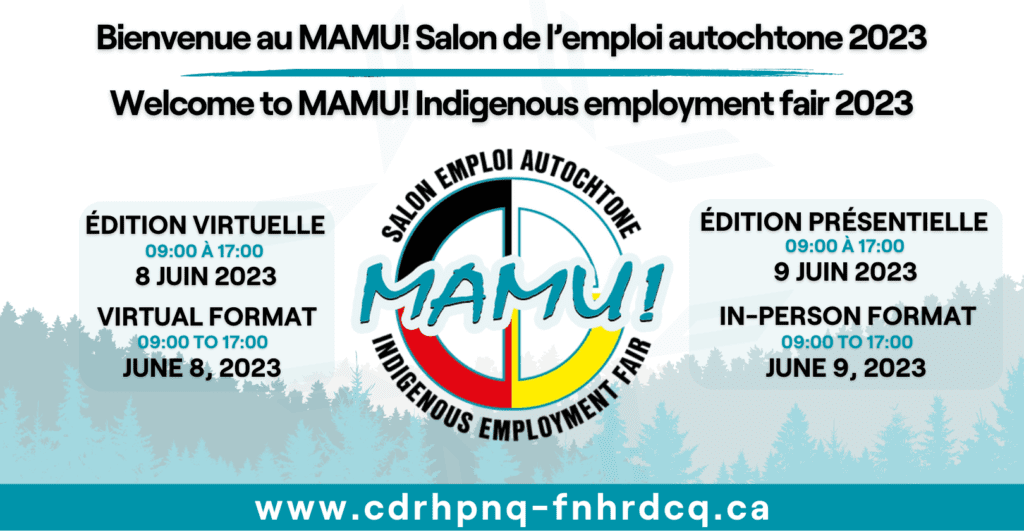 The Salon Mamu! 2023 is an annual event that aims to foster opportunities and collaborations between Indigenous communities, businesses, and educational institutions.
With both virtual and in-person editions, at Palais des Congrès de Montréal 159, rue Saint-Antoine Ouest, 9e étage, Montréal Québec H2Z 1H2 participants can discover job and training opportunities, while employers and trainers can connect with motivated and qualified candidates.
It's a must-attend event for human resources development stakeholders seeking to establish sustainable partnerships with First Nations and uncover new talent.
HYBRID FORMAT 2023
VIRTUAL EDITION
JUNE 8 2023
9H AM TO 5H PM
HYBRID EDITION
JUNE 8-9 2023
9H AM TO 5H PM
IN-PERSON EDITION
JUNE 9 2023
9H AM TO 5H PM
Free booth
Maximum of 3 people per booth
Installation of your booth and job offers taken care of by our teams
Live chat and video interviews on the virtual platform
Our hybrid event for Mamu 2023 offers you an equivalent experience to both an online virtual exhibition and an in-person exhibition. You will be able to enjoy live conferences, discover top employers, and meet industry professionals both in person and online.
Free booth
Maximum of 2 people per booth
Booth setup on June 8th
Lunch provided
Parking at your own expense
Booth dismantling at the end of the event